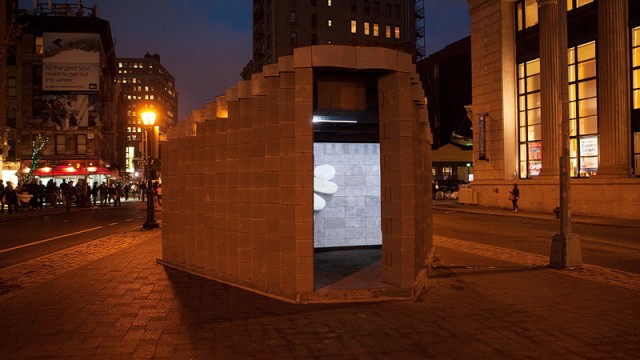 The Glass Sea
2012

The Glass Sea (2010-2012)
with architectural designer Steven Gertner
installed in Petrosino Square, at the intersection of Lafayette & Spring Streets, soho, NYC, 2012
presented by the New York City Parks Department, curated by Jennifer Lantzas (link here)
The Glass Sea is an installation with sound and video that is the result of my five-month residency on Governors Island. Inspired by Governors Island's history as a military prison – especially for deserters, the piece draws correlations among Governors, Riker's, Randall's & Wards, and Roosevelt islands, all of which are or have been used for isolation or confinement of prisoners, invalids, psychiatric convalescents, and other "disobedient" or "dysfunctional" groups.
Riker's Island is home to New York City's main jail complex. Randall's & Wards Island has two residential psychiatric institutions, and Roosevelt Island is home to a complex of state-run hospitals. The video is the result of interviews with current and past residents in these institutions, who narrated their schedules, experiences, and locations to me. I used my studio and the breadth of the island to simulate and document these spaces, labors, and activities of island confinement, and created video from my perspective. The piece is presented alongside texts that detail these schedules as they were described to me.
The structure is an amalgamation of the rooms on these islands where people live.
The title The Glass Sea is the term given to the particular architectural and landscape design of the hills and moat surrounding Governors Island's Fort Jay. The hill and moat create an artificial space that acts like another sea – providing an extra layer of distance, separation, and removal from oncoming forces. The Glass Sea is also the "killing zone" around thefort – a space that gives its constructors a tactical and perspectival advantage.
press here
The Glass Sea is made possible with public funds from the New York State Council on the Arts, a state agency and was developed during a LMCC Swing Space Residency. Thank you to Starborn Industries and Tietz-Baccon.
(photos by Arthur Moeller)